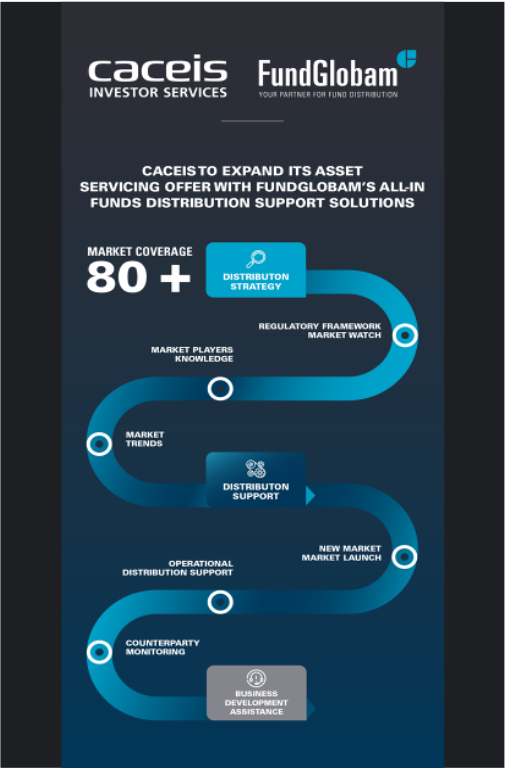 CACEIS, a European leader in  asset servicing  and FundGobam, leading European fund distribution expert, are providing an all-in integrated solution to support cross-border fund distribution.
CACEIS expand its integrated asset servicing offer with FundGlobam-DiGital* all-in fund distribution support services. The solutions include a combination of market intelligence and distribution support, featuring inter alia a regulatory monitoring and market watch on 80+ jurisdictions, and a full operational support on each distribution market and each distribution network.
The cross-border distribution is key in each asset manager's growing curve: CACEIS continues the integration of its asset servicing offer with FundGlobam's end-to-end solutions therefore covering the whole fund distribution value chain.
Asset managers will now be able to benefit from an integrated offer to support their business development, both in their domestic market and in foreign markets, inter alia:
A unique integrated outsourcing fund distribution support solution, with global coverage across over 80 markets in full compliance with all local regulatory requirements
An efficient integration of market intelligence and operational support across the fund distribution value chain
The optimisation of time-to-market and operational workload, as well as the reduction of operating costs thanks to an integrated online solution
Joe Saliba, Deputy CEO of CACEIS comments: "With the CACEIS x FundGlobam partnership, our clients will benefit from preferential access to best-in-class distribution support services."
Yves Tambour, Managing Director and partner of FundGlobam adds: "We are delighted to be able to enhance CACEIS offer with our online FundGlobam DiGital solutions. Asset managers can now benefit from a range of integrated services covering the whole distribution support value chain in all the markets in which they are active. "
We will be happy to provide you with more information about these integrated solutions to support cross-border fund distribution.
* FundGlobam DiGital: FundGlobam's online client platform providing a comprehensive all-in distribution support solution, including inter alia market intelligence and market monitoring on 80+ jurisdictions, operational cross-border distribution support, distribution risk and compliance monitoring, counter-party monitoring, etc.
La version française est disponible ici